You'd think that by now I'd be sick of oatmeal for breakfast every single morning. Surprisingly enough, though, I haven't tired of it yet. I guess maybe that's because I rarely eat just old-fashioned oats and water. There's usually a serving of fruit-flavored yogurt, applesauce, apple slices or milk mixed in with my usual dish.
But last weekend I went a new route, thanks to
Pinterest
, and mixed eggs - yes, eggs! - into my oatmeal. (Confession: I spend way too much time on Pinterest in the middle of the night. It helps keep me awake during 3 am-pumping sessions.)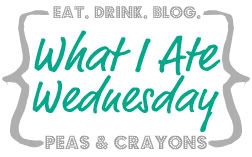 But I didn't just eat oatmeal Sunday. I also ate some leftovers for lunch (bean curry, which I hope to tell you about soon) and then this happened at dinner:
The husband grilled some burgers from Omaha Steaks. Two of them didn't hold together on the grill, though, so the four burgers he grilled ended up being two double cheeseburgers. I'm not complaining. They were delish. I balanced out the giant, most-likely fat-filled burger (and fries) with a huge salad, green beans and broccoli.
But, what's that? You want to hear more about that oatmeal? Of course you do. It's easy: Bring
1 cup water
to boil. Stir in
1/3 cup old-fashioned oats
and cook on low about 5 minutes. Whisk
1 egg and 1 egg white
in a separate bowl. Stir the eggs into the oats and continue to cook on low, stirring occasionally, until everything has thickened. (This will probably take about 2 to 3 minutes.)
Enjoy super-creamy and protein-packed oatmeal that'll help keep you full all morning (and support your milk supply)!