It's Wednesday! Oh, What I Ate Wednesday, how I've been looking forward to you. How I ever survived without this (what some might consider) silly weekly roundup of what I've been shoving in my pie hole is beyond me. I can't get enough. Thank you, Peas & Crayons!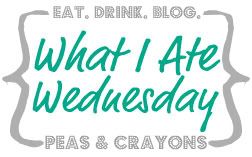 So here you have it: everything I ate ... Monday, brought to you with play-by-play commentary.
5:45 am - A pint o' water starts my day.
6:10
am
- While packing our lunches - yes, I pack the husband's lunch every day - I decide to make the white barbecue sauce we'll be eating with dinner. I like the whisk before putting it in the sink and think the sauce tastes way too apple cider vinegary. But I cover it and put it in the fridge anyway, crossing my fingers the mayo/Greek yogurt just needs the day to balance out the vinegar flavor.
6:15
am
- I have 3/4 cup egg whites scrambled with leftover lean ground turkey along with black half caff for my sit-down breakfast.
6:30
am
- I mix 1 cup unsweetened vanilla almond milk and a scoop of vanilla protein powder to drink while I dry my hair. Thank God I discovered almond milk. Love. It.

7:30
am
- I add a cup of decaf from the machine at work to my travel mug. I don't even really like the taste of the coffee from work, so I don't know why I do this. I think it's because my hands are cold. (This is the story of my life.)

8:30 - I've let my coffee get all cold and gross. I guess it's time to switch to water.
10:45 - The bananas on the counter were starting to get a bit ripe, so I packed one along with a tablespoon of walnuts for my morning snack. I honestly cannot remember the last time I ate a banana. It tastes sooo good! As soon as I throw back the last couple of walnuts, though, I realize I've forgotten to add a fair amount of protein to this carb-loaded snack. My doctor said it's cool if I start eating more carbs, so long as I eat them with protein. Gah. I guess I was a little too excited about that banana.
12:20 pm – I'm starting to kick myself for not having my usual Greek yogurt as my mid-morning snack. I like to wait until 1 o'clock to have lunch, but it's going to be hard today.
1:00 pm – Leftover steak works for me. I've cut last night's steak into bite-size pieces and tossed it with fresh baby spinach, a little avocado and two tablespoons of my homemade salsa I canned last fall. My half cup of low-fat cottage cheese doesn't make it into the picture, but that's OK. I'm trying not to look like a creep in my office cafeteria.
3:30 - There's no doubt about it: Protein shakes taste a lot better when made with almond milk rather than water. But all I've got here is water, and I need the protein.
6:00 - Pulled chicken sandwiches made with white barbecue sauce ... mmmmm! This is a new meal for us and it's definitely meeting our expectations. I was so afraid it was going to taste like a whole lot of vinegar, but it's perfect with chicken. Alone, yes, it is quite tangy. Don't treat it like peanut butter, that's all!
7:00 - An ounce of almonds while editing photos? Sure! (Yes, I totally ate the majority of them before remembering I should snap a photo.)
7:30 - My nightly snack often consists of a small chopped apple, heated in the microwave for about 30 seconds and then eaten in a bowl with 1/2 to 3/4 cup fat-free cottage cheese. I never get tired of it!
8:00 - I really thought I was done eating for the day, and I feel a little guilty about eating while on the loveseat watching TV, but I realize I haven't met my daily allotment of calories. (And if I don't eat enough calories and I lose weight, the husband freaks out and makes me go out to dinner and eat steak and ribs. Seriously, though, have you ever tried to eat very, very few carbs yet a reasonable number of calories? Meat gets old sometimes!)

I head back into the kitchen, get 1/2 cup of unsweetened almond milk and a scoop of protein powder and two tablespoons of natural peanut butter. Yes, peanut butter on a spoon. Now that's a great way to end the day!
So, what'd you this week?